HUMBOLDT BRONCOS BUS CRASH
Humboldt Broncos Players: April 6, 2018
On April 6, 2018, sixteen people were killed and thirteen injured when a northbound coach bus struck a westbound semi-trailer truck near Armley, Saskatchewan, Canada. The driver of the semi-trailer had failed to yield at a flashing stop sign at the intersection of Highways 35 and 335.
The crash made news across Canada and the United States, and prompted condolences from public figures and celebrities, vigils, and tributes, such as people leaving hockey sticks outside their doors. A GoFundMe crowdfunding campaign set a national record by raising more than C$15,000,000.
---
Tyler Bieber (29): Bieber worked for Humboldt radio station CHBO and often travelled with the team as its play-by-play radio announcer. Steven Wilson, a co-worker in Weyburn, Sask., said it was Bieber's first season announcing for the team. He also covered morning news. "He definitely had a natural talent," said Wilson. "He was just passionate about sports." Wilson said he filled in a few times for Bieber because he was also busy coaching the Humbolt high school's basketball and football teams.
---
Glen Doerksen (59): Doerksen is described by his employer, Charlie's Charters, in a Facebook post as an "outstanding friend, husband, and father." "In talking to him, he spoke at length of his time in rinks with his own family and now how much he enjoyed being able to take and watch other teams from minor, to senior to SJHL to their hockey games," the Kinistino Tigers wrote of Doersken, who drove their team to and from playoff games. "We will never forget the smile on your face as we left Allan after winning the Championship and got you to give 'two honks for the Cup.' Tonight Glen, we give two honks for you. Rest easy Sir."
---
Darcy Haugan (42): The Broncos head coach and general manager was the first person confirmed dead. He lived in Humboldt but was from Peace River, Alta. One of Haugan's former players in Peace River, Bud Dyck, said the coach "never gave up on anybody. He was always there for every one of his players, always fought for every one of his players, always had their backs. ... You wanted to win for him." Haugan is survived by his wife Christine and their two sons. Wilson said Haugan's wife, Christina George-Haugan, worked as the team's office manager.
---
Adam Herold (16): The youngest member of the team, Herold would have turned 17 this week. He was also a new member of the team — up until a few weeks ago, Herold was captain of the Regina Pat Canadians, manager John Smith said. But when the Regina team's season wrapped up, Herold was sent to join the Broncos for their playoff round. "He was a wonderful young man. Never afraid to help his teammates. Always there for them. Good, typical Saskatchewan farm boy. Always load the bus, unload the bus, never afraid to roll up his sleeves and get work done," Smith said. Smith said Herold is survived by his mom, dad and an older sister.
---
Brody Hinz (18): The 18-year-old Hinz had recently started tallying the Broncos' numbers for Humboldt radio station CHBO. "Brody had recently joined our Golden West family, mentored by Tyler and the Bolt FM team," Lydon Frieson, president of Golden West Radio, said in a statement posted on the station's website. "Tragedy has hit our community and it reaches into every corner of life in Humboldt." Another company statement described Hinz as an intern still in high school. The night of the crash marked a double tragedy for the family. A relative said on Facebook that another family member lost a baby boy in Humboldt hospital shortly after he was born.
---
Logan Hunter (18): Hunter's death was confirmed by his former team, the St. Albert Raiders in his Alberta hometown. The organization's president, Kevin Porter, said he heard the news from Hunter's mother. "He always had a smile on his face," said Porter, who described Hunter as a "smart kid and a great hockey player" with a "great sense of humour."
---
Jaxon Joseph (20): The Edmonton native's death was confirmed by the Surrey Eagles, his former team in the British Columbia Hockey League. The Broncos website says Joseph, who was 20 years old, was among the leading scorers in the Saskatchewan Junior Hockey League playoffs, playing on a line with Logan Schatz, another player who lost his life in the crash. In a profile published on the team's website in January, Schatz paid tribute to Joseph and fellow linemate Conner Lukan. "I've really clicked with Joseph and Lukan. I can't say enough good things about them," Schatz said.
---
Parker Tobin (18): Parker Tobin was among those killed in Friday's incident. He was originally misidentified as a seriously injured member of the team, while Xavier Labelle, who was reported to have died, is alive. Tobin was in his first season with the Broncos after starting his year with the Spruce Grove Saints of the Alberta Junior Hockey League. Tobin spent his final year of midget eligibility playing for the Drayton Valley Thunder of the AJHL and also played a season with the Leduc Oil Kings of the Alberta Midget AAA Hockey League.
---
Logan Schatz (20): The team captain had played for the Broncos for just over four years and had served as team captain for the past 2 1/2 years, his father Kelly Schatz said. The native of Allan, Sask., played centre and was named the league's player of the month in February after earning points in eight of nine games. He was 20 years old. Kelly Schatz said his family is seeking solace in one another. "It's hard," Kelly Schatz said. "I've got four other kids and they're here, which is nice."
---
Stephen Wack (21): The 21-year-old defenceman was one of the victims of the crash, his cousin Alicia Wack confirmed. He had played with the Broncos for two seasons. Wack said her cousin made the best gingerbread houses and "absolutely lived and breathed hockey." "Stephen has always been an amazing person, son, big brother, and cousin. He is one of the most adventurous, ambitious, and loving people that I have ever been blessed to know," she said in a Facebook post.
---
Mark Cross (27): In a news release published Saturday, York Athletics & Recreation said that the university was "extremely saddened" by news that former York University hockey player Mark Cross was one of the victims of the tragic crash. "Mark was exceptional young man, an assistant captain during his time at York and the team MVP in his fifth and final season in 2015-16," Russ Herrington, the head coach of the York Lions' men's hockey team, said in a written statement. York University says former York Lions player Mark Cross is among the victims killed in the devastating Humboldt Broncos bus crash in Saskatchewan. Cross, who graduated from the university with a degree in kinesiology and health science in 2016, was described as a "ferocious competitor" with a "vibrant approach to life."
---
Logan Boulet (21): A 21-year-old Lethbridge, Alta., hockey player's organs will be donated, saving multiple lives, after he was critically injured in a bus crash that claimed the lives of several of his teammates on the Humboldt Broncos junior hockey team in Saskatchewan. A friend of Logan Boulet confirmed to CBC News on behalf of the family that Boulet had been kept on life support, until matches for his organs could be found. Boulet was described as a "caring, humble and genuine man who would do anything for anyone before himself." His organs were expected to save at least six lives.
---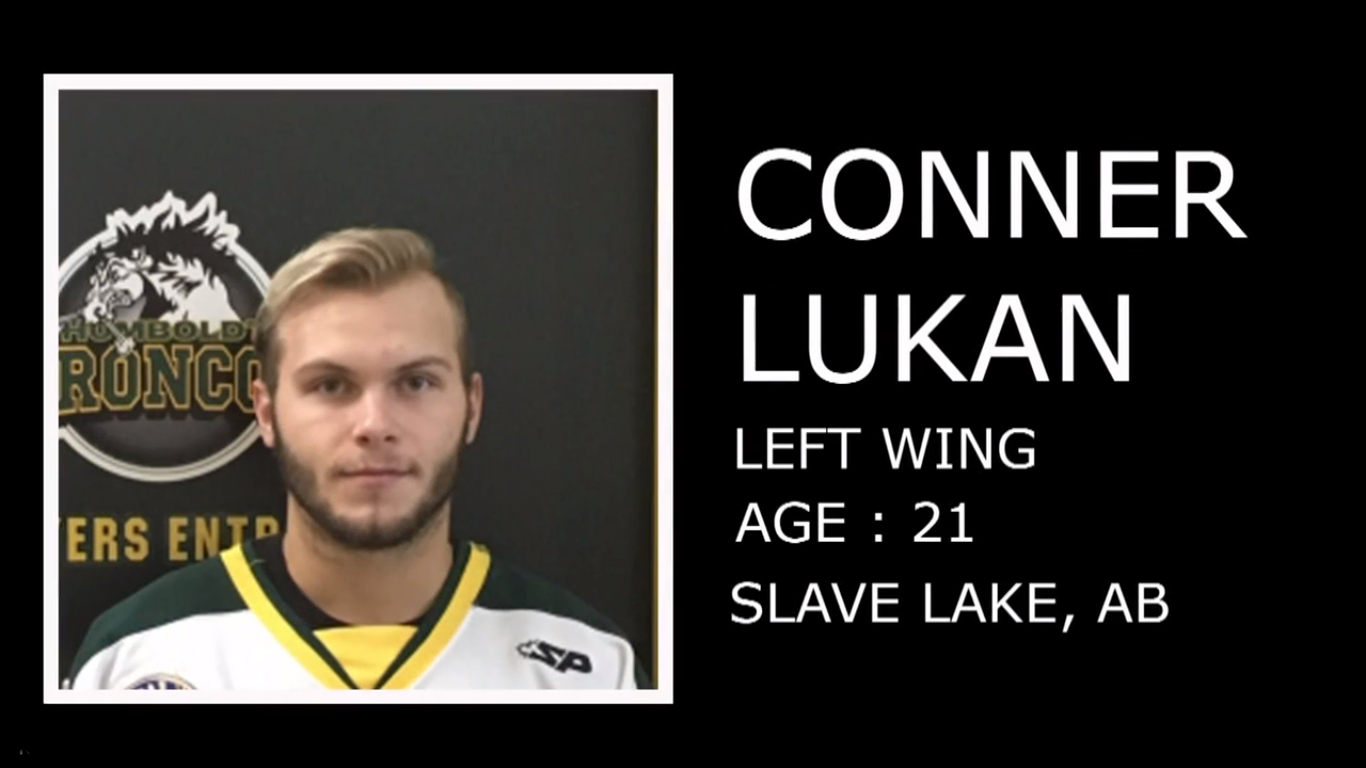 Conner Lukan (21): Lukan, a forward on the team, was from Slave Lake, Alta. He joined the Broncos this season, after playing with the Spruce Grove Saints in the Alberta Junior Hockey League.Kevin Garinger, team president of the Broncos, billeted Lukan.
---
Evan Thomas (18): Thomas played right wing for the team and was from Saskatoon. Thomas had been living with a family in Humboldt for the hockey season. His father, Scott Thomas, said Evan was the "kind of kid any dad would be proud to call his" own. "He was a self-driven, motivated, retrospective, quiet, confident and very self-assured young man." It was the 18-year-old's first season as a forward with the Humboldt Broncos. His dad says he was an athlete, playing both hockey and baseball, as well as a strong student. Taryn Warford, whose parents billetted Thomas, said on Instagram, "It was an honour to have you be a part of our family this hockey season, Evan. You will forever be in our hearts."
---
Jacob Leicht, (19): Left-winger Leicht, a Humboldt native, was also among the deceased, Father Joseph Salihu of St. Augustine Catholic Church, told CBC News. He first played for the Broncos organization as a bantam AA player in 2013. Leicht went St. Dominic School for elementary and Humboldt Collegiate Institute for high school.
---
Dayna Brons, (24): The athletic therapist for the Humboldt Broncos. Brons, who was from Lake Lenore, Sask. Brons graduated from University of Regina, where she got a degree in Kinesiology and Health Studies. She also took an advanced certificate in Athletic Therapy at Mount Royal University in Calgary. She joined the Broncos in 2016, according to media reports.
---
The players who were injured:
Graysen Cameron: The 19-year-old forward from Olds, Alta., can't play hockey again after suffering back injuries, a concussion and an eye injury. He had surgery in November to remove metal rods and screws in an attempt to improve his mobility.
Brayden Camrud: The 21-year-old forward from Saskatoon overcame a severe concussion, loss of feeling in one of his arms and neck issues. He also had some cuts on his hands and continues to attend physiotherapy.
Kaleb Dahlgren: The 21-year-old forward from Saskatoon received a fractured skull, a puncture wound in his head, a brain injury and six broken vertebrae in his back and neck. He also had blood clots in one arm and behind one eardrum. He is still in rehabilitation and is seeing a neurologist to determine if he will be able to play competitive hockey.
Bryce Fiske: The 21-year-old defenceman from La Ronge, Sask., suffered a neck fracture, skull fracture, left shoulder fracture and pelvis fracture. His spleen was lacerated and his left lung was punctured. His jaw was fractured in four places, he's missing two teeth and his tongue was severely injured. He is still in a significant amount of jaw pain and in treatment for his injuries.
Morgan Gobeil: The 19-year-old defenceman from Humboldt, Sask., has a traumatic brain injury. He sustained multiple skull fractures, three facial fractures, rib fractures and lacerations to his liver and spleen. He is a patient on the rehabilitation ward at City Hospital in Saskatoon. He takes part in physical therapy, where he is working on balance, sitting on his own, standing on his own and taking steps. He's not able to do any of those things independently yet.
Matthieu Gomercic: The 21-year-old forward from Winnipeg had a separated shoulder, a concussion and cuts to his hand and chin. His spleen was enlarged, his teeth shifted and his jaw was slightly displaced. He still gets headaches and has problems with one shoulder. He also continues to deal with emotional issues as a result of the crash on a daily basis.
Xavier LaBelle: The 19-year-old defenceman from Saskatoon suffered a fractured skull, facial fractures and deep lacerations, as well as a brain injury that led to post-traumatic amnesia for two weeks. He is to have a followup assessment on his brain injury in April. He has scarring on his face, neck, head, arms and back. The severe facial and other injuries made him unrecognizable after the crash, which resulted in a misidentification that led to further chaos and heartbreak for many. He continues to undergo surgeries and faces daily challenges.
Layne Matechuk: The 18-year-old defenceman from Colonsay, Sask., suffered a severe traumatic brain injury. He suffered extensive facial fractures and a sternum fracture. Both of his lungs collapsed. He was in a coma for a month and had to learn to walk and talk again, but has since left the hospital. He is able to walk, but has a significant limp. He also has difficulty using his one arm due to the brain injury. The extent of his recovery from the brain injury is still not known.
Derek Patter: The 20-year-old forward from Edmonton suffered bleeding outside his brain, as well as right shin and fibula fractures, a nasal bone fracture and significant cuts and bruises. He continues to struggle with his leg and a surgeon has recently told him he still has healing to do.
Nick Shumlanski: The 21-year-old forward from Tisdale, Sask., walked away from the crash despite having a fractured bone behind his ear and a lumbar avulsion fracture. He has been told the physical injuries to his ear may never heal but he doesn't expect that will have a significant effect. His back seems to have healed, but he continues to deal with emotional issues as a result of the collision.
Tyler Smith: The 20-year-old forward from Leduc, Alta., had two broken ribs, a broken shoulder blade, a broken collarbone and a punctured lung. He had six inches removed from his small intestine due to the injuries. He also had a stroke and is required to take Aspirin daily. He is expected to require annual MRIs. He returned to play with the Broncos for about a month in the fall, but has since decided to step away so he can continue his recovery at home.
Ryan Straschnitzki: The 19-year-old defenceman from Airdrie, Alta., suffered a brain bleed, concussion with memory loss, cracked right shoulder blade and a collapsed right lung. He was also paralyzed from the chest down and the injury is expected to be permanent.
Jacob Wassermann: The 19-year-old goalie from Humboldt, Sask., suffered a brain injury, a broken shoulder blade, fractured ribs and nasal bone fractures. Both of his lungs collapsed and a spinal cord injury resulted in paralysis from the naval down. It's expected to be permanent. He attends physiotherapy three times a week to get stronger. His father said in November that Jacob has started to have movement in his hips.